We are here to support the people of Southend Borough and equip them with the tools they need for a better life.
We offer a range of activities and support including outreach support on the streets of Southend. We deliver food and clothing parcels, provide a hot meal service through our Kindness Kitchens, offer one to one counselling, befriending, furniture delivery service and delivery of all our other services for those that can not access us. We also have a large inclusive volunteering programme which includes corporate volunteering.
We also have great links with local businesses who make it possible to do what we do. Their staff have visited our centre and volunteered with us. We are also keen to get young people involved through encouraging local schools and youth clubs to join us. St Vincent's centre 'can organise trips to the centre for young people.
Our services are FREE (for those who need it) and confidential.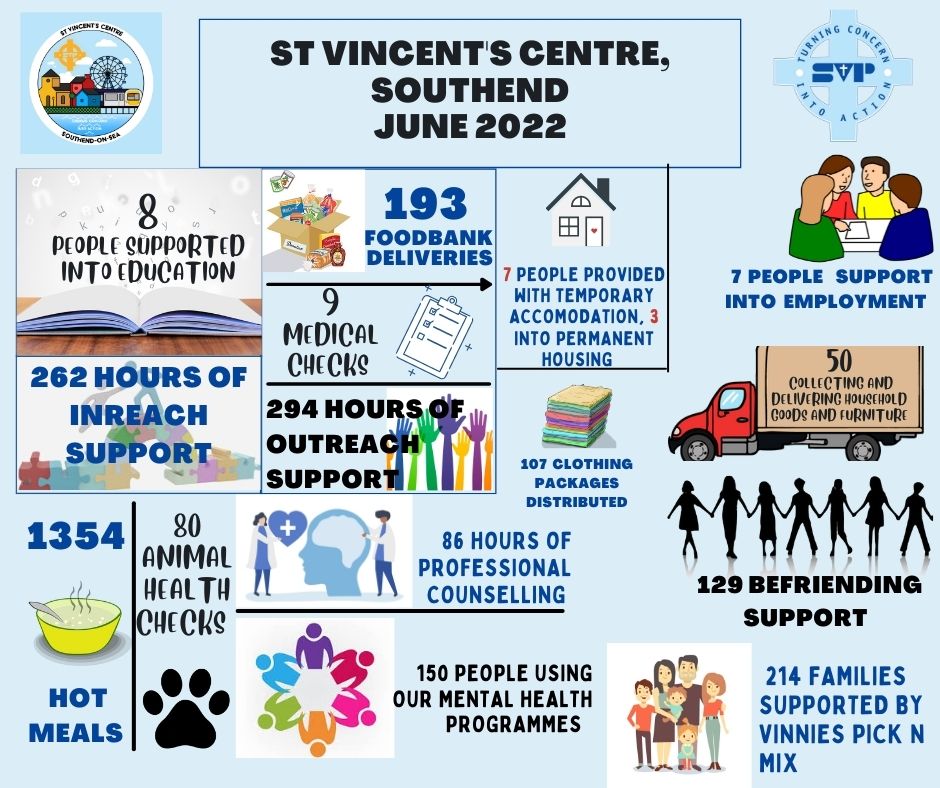 Follow our updates on Twitter!
St Vincent's Centre, Southend
@StSouthend
Everybody needs a friend and at St Vincent's Southend we make everyone who comes through our doors welcome. We alwa… https://t.co/6CZRkcqqVj
9:11 PM - Jun 17, 2022
St Vincent's Centre, Southend
@StSouthend
Lovely atmosphere at the centre where we were able to thank all our amazing volunteers for all their support and ha… https://t.co/amKR5SZHkC
8:56 PM - Jun 14, 2022
St Vincent's Centre, Southend
@StSouthend
Preparations for the feast tomorrow for our Ukrainian community. So lovely. https://t.co/Fkld8h0NhU
8:33 PM - Jun 11, 2022