It's Saturday. I find sweet chilli dressing and purée and feel like I'm winning at life. Dermot tells me to take time to relax but I don't feel I can.  
My brother has the virus. 
Our volunteer Jonathan sources two fridges and a freezer which will be delivered on Monday to be plugged in in the shop - it's not a shop at the minute. He's also got tomatoes and mushrooms. I don't know what we have to go in breakfast boxes on Monday as we only have milk, tomatoes and mushrooms at this rate. 
On Sunday one of our vulnerable volunteers was told (by us) that the council would come to her aid and provide regular food parcels. She's called today to say it's arrived and it includes a huge tin of beans, a huge tin of tomatoes, jasmine tea, coffee pods for a machine (and obviously she doesn't have one!), no milk. I've told her we will drop off stuff she can actually use tomorrow. Will also be making a call to the council about what needs to be in a food parcel and how to make people feel valued!
In better news, it looks like we are going to be setting up a WhatsApp group for other local providers that we are now supporting too - we need to try and be more coordinated amongst the chaos. 
It's Monday and we're very low on supplies. We managed 124 breakfast boxes and still no rain which is amazing. CGC rocked up with a van full of veg. Jonathan arrived with a freezer and two fridges! Lunch was venison stew or Nasi goreng. One of the street people has started to copy my welsh accent. 
A boot FULL of Lindt chocolate arrives!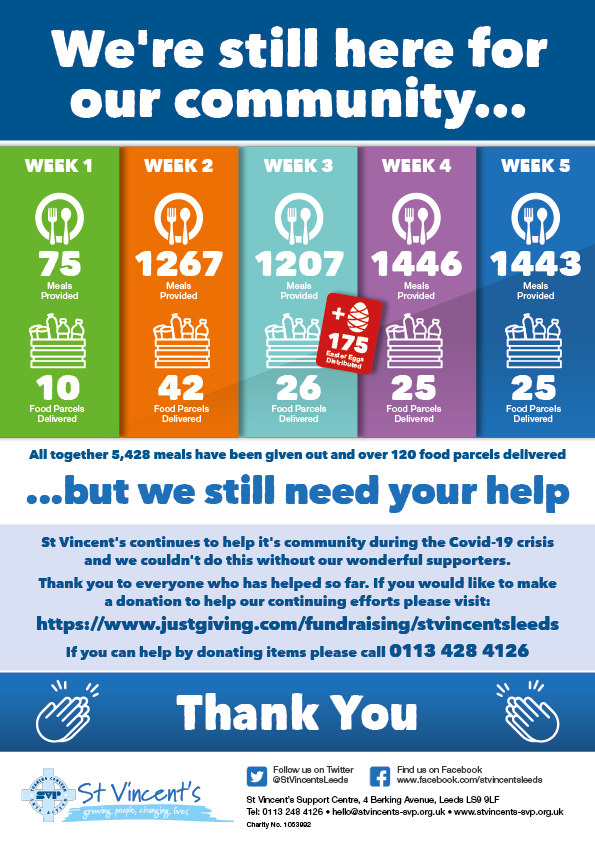 We get a request for a home delivery of hot meals to family of five in Horsforth, as the mum is having radiotherapy and shielding. So, we commit as a team to do this weekly for the foreseeable. 
Three volunteers need a delivery of fresh food - one requests pop and sprouts! 
On Tuesday we had loads of fresh food for breakfast but then run out of food at lunch. 
The council call and ask what can they do to help? So I explain the situation - they offer £100.
The queue of people wanting lunches outnumber the actual number of lunches we can supply – one of them NEEDS pineapple … I have to ask people to be kind to each other and not judge but my patience is draining!  
I've had no lunch, or any food until I get home for that matter, which meant one glass of wine to destress from the day and I'm hammered! 
Morrison's provide us with some food so that we can deliver it out to local people. One of our regulars approaches the Morrison's worker to tell them that we don't give out the food to locals and keep it for ourselves ... as we were literally giving out food to locals! We receive a huge donation of hard-boiled eggs! We're running out of takeaway boxes. Our donations on Just Giving smashed the target. We receive an intriguing call from one of our corporate sponsors asking us to join them for a conference call tomorrow at 4pm... 
We can't get hold of a mum and son that use us often which is worrying.  
The Chairs of MC come in and do pincer movement to try and make us take time off – no chance.  
The meeting was good news, we were receiving a donation from them! And the rain holds again!  
Lunchtime - one man wants to put a complaint in as he couldn't have two lunches while a family of nine had nine! Another mum wanted five meat lunches (we have to share) and said I was starving her kids - pointed out they could share or she could eat the lovely veggie option.  
I get message from key worker from next door charity - he's home and missing work and St Vin's. I'm a mess - this is emotionally exhausting. I order Chinese and drink wine. Slimming world is a distant memory. 
On Saturday we got another message from the Friday night mum - with a thank you card attached. I'm off again, crying. I find the right sized nappies in petrol station. Can't cope with supermarket queues so this is my new shopping regime. Can't get a food delivery from anywhere. 
Sunday - oh it's Easter already, where did that come from? I've lost all sense of days and dates. There's no Easter food in our house. Receive a message from the 'Face of Leeds' Joe, telling me he misses us. Bradford team have a WhatsApp group. Jon is struggling, Claire has disappeared, Pete has no food. Spend some time checking in - they've got a good little network. Add Pete to my Monday food drop (Bradford).  
Cry again.  
Need to go out and look for dinner ingredients/flowers for my mother-in-law. I realise I've not spoken to my parents all week!! I have a shower - my roots are getting ridiculous. Jonathan sends some food hygiene instructions from the council and everything at St Vin's seems to be in order – by some sort of miracle.