Woke up at 3.30 am Monday - what do we do if it rains? Appears my brain is never off duty.  
10am - sunshine!  
Things I've learnt about east Leeds: 
Almost everyone takes at least three sugars in a small cup of tea (from the newly named Morgan's café)  
People don't like beetroot or swede or (unbelievably) raspberries!! 
In the evening I get a call from other agency who is supporting Pav (remember him from home delivery food parcel?). He has bone deficiency and needs milk ... he has skin condition so we need to source washing machine and washing powder .... no we don't ... and if you think he does , please feel free to source it yourselves. We know him well and we know he is absolutely fine. 
Tuesday there was an MC meeting by Zoom. George's last as chair. There is some wild hair (including mine and Sally`s)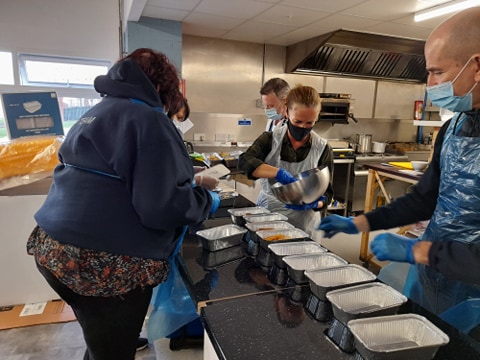 Wednesday - oh no it's raining!!!  
Miraculously stops at 10 and 12. Dermot has disguised the raspberries into "summer fruit" smoothies - people of east Leeds you will eat fruit!  
Fareshare deliver a soup mountain - could build a house on the grass opposite! We have Zoom meeting with RBC- nice to talk about the way forward - I have a plan! 
Friday - another week with no rain. Hot chocolate, cookies and a disco to end the week. George volunteered which was nice. We've signed up to be a Richmond hill breakfast venue. 
It's finally the weekend, why am I so tired?? Went to B&Q which was very unnerving. Got lots of DIY stuff as my husband is off next week, but it felt wrong being out of the house and not at St Vin's. 
Woke up at 5am on a Sunday! My mind is racing.  
We need a whiteboard and a rota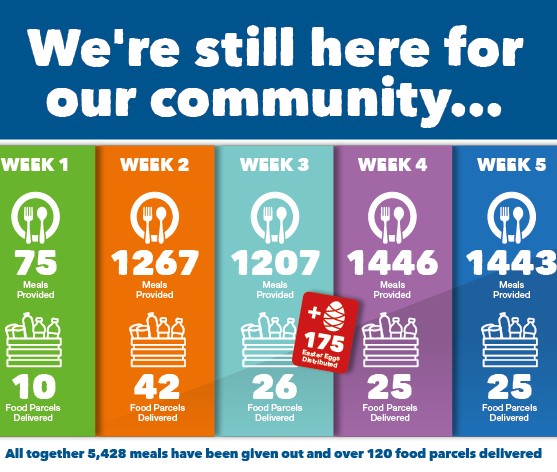 For each week of the first initial lockdown, we'll be posting a new blog on what happened, how it made people feel and how your support can help - read about Covid Response - Week Seven here. 


Photograph: Lucy Piper/Alamy Stock Photo