Rota - check! Whiteboard - check!
Cried at the news. Cried that I can't see my girl. The woman from Affinity Trust shouted at me for having a queue. 
On Tuesday Alan cried. Paula cried. I've cried.  
Mavis gave me a book list! Party boys impersonated my accent at lunch - appears they are practicing on the streets!  
Nominated for Leeds Civic award (cried!).  
Janet received Rob's death cert in post - so yes, now that's her, me and Sally all crying. 
We give out reading books at breakfast and a little girl comes back at lunchtime with a daisy to say thank you. Her dad has got a job after nine weeks without work. 
Thursday - I took an enforced day off. I don't want to be home, I don't like being away from St Vin's.  
It was Rob's funeral.
We had a team Zoom meeting and it was a disaster .... Vicky & Luke. I need to get back there tomorrow. 
It's the end of week seven. Sally is off. Spend most of the day talking all things Greggs. Agree to do Facebook Live next Friday (eek). I'll have to wear long sleeved top due to armpit hair issues - haha!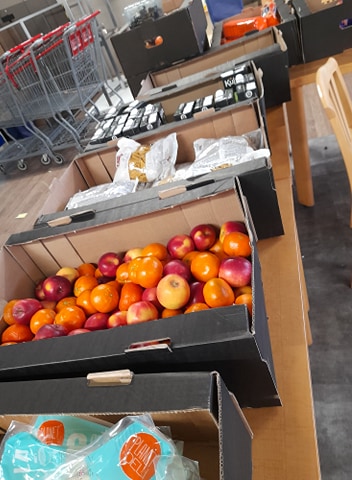 And this is where I stopped my diary - reading it back, it's easy to see why people were trying to get us to take time off. But the work continued until other services opened back up and we felt it was the right time for us to step back.  
A great deal happened in the following 11 weeks including losing Mavis and also Janet. Our St Vins family (very much including The Morgans and their extended family, Roisin & Ros, Seb) grew even closer and I think this is a long-term relationship that has only been possible due to Covid-19. 
Our work didn't stop at lockdown, or at post lockdown, or lockdown part 2…or Christmas. St Vin's has a history of hosting lunch on Christmas Day for those who would otherwise be alone. Last year we had 95 guests on the centre. So, what on earth could we do…fresh, hot Christmas Dinners delivered to the door (obvs!).  
Logistically, and practically, a nightmare- but we did it! Food prepped Christmas Eve (thanks Derm) … Volunteer drivers (8x2), Seb the PT came to cook, hot boxes. We made 92 Christmas Lunches happen (our practice during lockdown served us well!). LOTS of happy faces when they got the lunch and bag full of treats but even happier because someone gave a damn on Christmas Day! 
We couldn't have done, or continue to do, what we do without the kindness of others- kickboxing Instagram influencers being photographed outside the centre and sharing our message; individuals turning up with a car full of nappies; supermarkets donating Easter eggs and sausages, and a team of staff and volunteers that made (and continue to make) the magic happen. 
And so, we face 2021. Ready to go again - safe in the knowledge that whatever Covid (or anything else!) throws at us: We've got this!