Our work reflects Leeds' diverse and vibrant community where 100 language are spoken and 169 nationalities are represented..
**Our services are temporarily suspended until further notice. We are keeping in touch with our existing clients through our telephone service.**
Developed out of the needs in the local community, we provide support to migrants in need of practical help and advice. Working in partnership with Manuel Bravo, we provide immigration advice and guidance for settlement and citizenship. 
We also provide guidance for employment, housing and welfare as well as information about access to the education system including ESOL, and further education and training opportunities.
We provide a weekly drop in every Thursday morning from 10:00am -12pm which provides free advice and guidance for a wide range of issues. Please arrive to the centre around 9:30am to secure your place to speak to one of our advisers.
As with all of our services at St Vincent's, our support is open to all.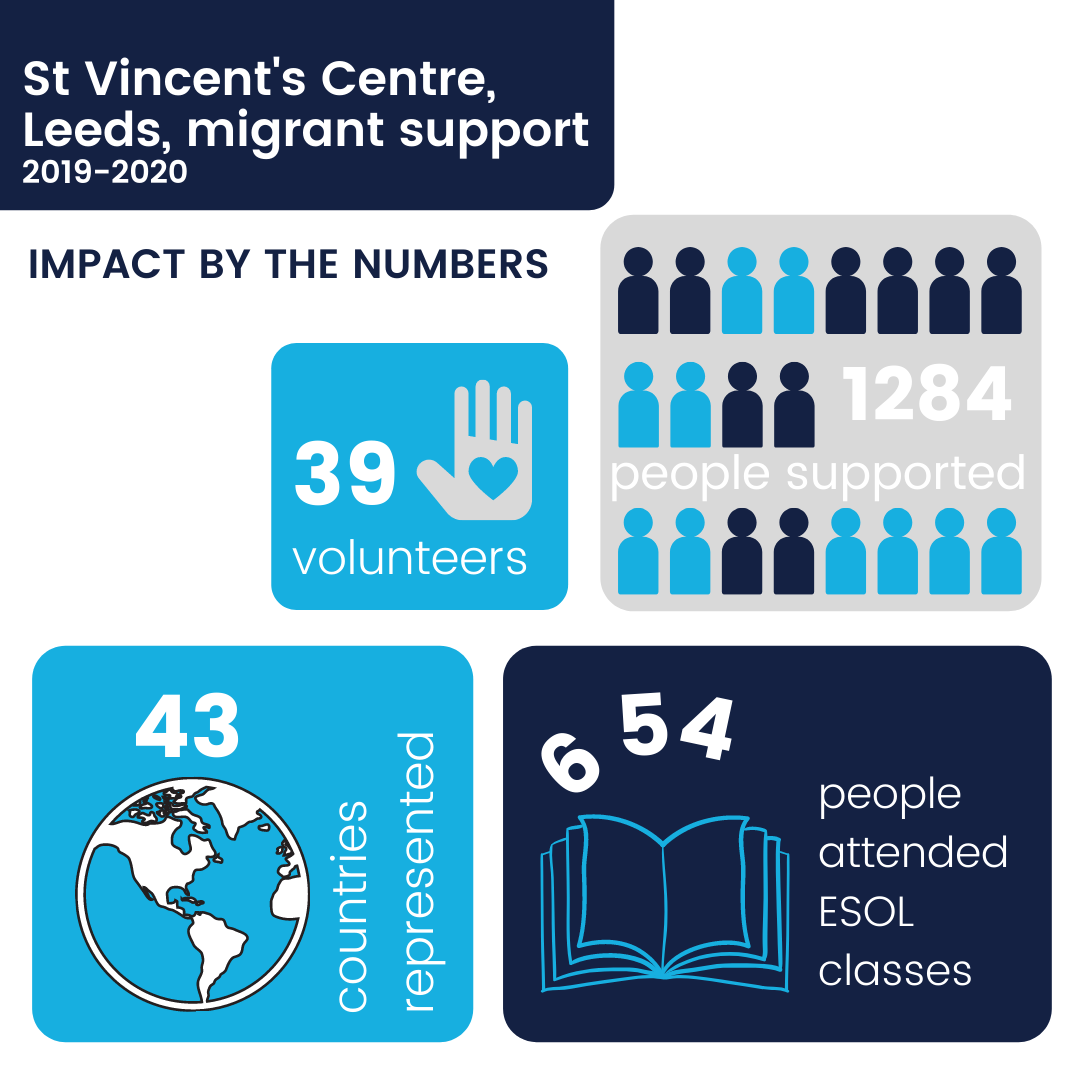 What type of support do we offer?
Our drop-in sessions provide immigration advice and guidance to all vulnerable migrants, refugees, asylum seekers and others who may need help and support with employment, housing and welfare, ESOL & further education and training.
Frequently asked questions
The EU Settlement Scheme is for EU Citizens and their family members as set out in the Immigration Rules Statement of Changes published on 11th October 2018. 
The immigration status granted under the scheme is either:
Indefinite leave to remain (ILR), also referred to as 'Settled Status'
5 years' limited leave to remain (LTR), also referred to as 'pre-settled status'
All EU Nationals and their family members who would like to legally stay in the UK after Brexit should complete the EU Settlement Scheme by the end of the planned transition period – 31st December 2020. (Opening to all after 30th March 2019)
We support invididuals accessing our services now, who might not be able to apply themselves, and/or are in vulnerable situations and need additional support during the process. If you think this is you, or someone else you know, please get in touch.